It's a changed societal playing field when a kid can get killed for trying to recover a personal belonging.
I grew up in Toronto's notoriously scrappy east end through the 60's and 70's. There was plenty of mayhem around us, to be sure, but the kids in my circles bided in a safety bubble of sporting activity. A focus of time and energy that tended to pre-qualify our social sphere, build character, and generally shelter us from any real trouble.
We were raised to never start anything, but to always stand up for family, friends, and others in need of help. We learned to defend ourselves and what was ours. The spirit of the philosophy was captured nicely by George Osborne, one of the street dads, who provided us a set of lyrics for what became our mantra at street hockey and other team sport contests:
We're the Rhodes Avenue Rangers; We take no guff from strangers; If they get rough, we get tough; We're the Rhodes Avenue Rangers
Most childhood disputes were resolved through deft negotiation or persuasion. There was always an honest attempt at diplomacy before ever escalating to tactics of intimidation or physical threat. A typical encounter may have sounded something like this:
"We were playing burpee at the school yard this morning and my little brother left his baseball glove there. Some kids from Highfield said you have it. It has my brother's name written in blue magic marker under the strap. We'd like it back."
The tracking technology of our times was fanning out and hitting the streets to canvass anyone we could find: "Hey buddy, have you seen anyone carrying a Black Diamond baseball glove today?"
In my circle of family and friends, some were built for negotiation, and others better suited to stand back and project an air of toughness. In the event of unreasonable resistance to a case effectively made, some threat of impending bodily harm, such as, "Give it back now or I'll punch your lights out," would usually follow.

In reality, few of the kids in my crowd were adequately equipped to deliver on that promise, but on the odd occasion, it would end with some shoving or the administering of a headlock (or some other wrestling hold periodically rehearsed among ourselves).
Actual fisticuffs was a measure of last resort. Even so, about the most that would come of that, was someone getting a bloodied nose or a shiner. The truth is, there were far more battle scars to be had from the sporting events we were engaged in than there ever were from neighbourhood disputes with opponents or strangers.
* * *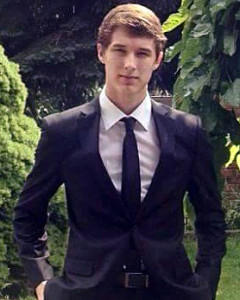 Yesterday, Brampton teen, Jeremy Cook was buried after being shot and killed Sunday in London, Ontario, in an attempt to recover a lost cell phone.
After leaving the phone in a cab, he used his sister's 'find my phone' app to track his mobile to a specific location in London's northeast. It was traced to three men sitting in a car, in a plaza parking lot. An early morning confrontation led to Cook's shooting and the recovery of his body shortly after.
The emerging profile of the victim portrays an amicable and ambitious young man with a loving family and a host of friends. The 18-year-old is being described as "an incredible kid," "a beautiful soul," and, "the happiest guy." He had already started his own business building cottage chairs and was planning to hone his skills in a carpentry program at London's Fanshawe College, in the Fall.
He was also a kid who reportedly grew up playing sports.
* * *
While the suspects are still at large, and it may take some time before events leading up to the murder are fully known, the hazy shape of a plausible scenario is eerily familiar to another era. The outcome, however, completely different.
Cook used technological resources to track down his rightful property. Today's smart phones are an extension of the person. Most contain extensive contact lists and information, many store personal conversations and photos. Why wouldn't he try to get it back?
It could be that it started with an attempt to reason as we did in our day: 'Hey guys, I left my phone in a cab and this app I have tells me you might have found it. Can I have it back' However it actually played out, the men in the car appear to have had other plans for the phone.
With his personal property clearly in their possession and virtually within his reach, it's conceivable that Cook lost patience and raised the stakes with some form of threat. Accompanied by just his sister, and squaring off against three guys in a car, it's hard to imagine a physical threat being made. It's easier to envision a threat of reporting the incident and car licence plate to police. Only the people at the scene could possibly know.
In neither case could Cook have possibly foreseen an adversary armed with a gun.
Police report that in the process of the altercation, one of the three men left the car just before it took off with Cook allegedly hanging on to the driver's door. His body was found with multiple gunshot wounds a short distance down the street in another plaza lot.
* * *
Whatever the circumstances leading to the young man's murder turn out to be, this is a tragedy that will never make sense. It also highlights a level of violence, and the potential repercussions to a confrontation, never contemplated in generations past.
Jeremy Cook sounds to have been a good kid doing what any number of us have done – and would do – to defend ourselves and what is ours. The price he paid is a tragedy beyond comprehension.
Let there be swift justice and a modicum of peace for a grieving family whose son's promising life was so brutally and senselessly stolen.
* * * * *