If Bruce Springsteen is really sixty-six years old, it seems no one has broken the news to him.
On Tuesday night, a packed Air Canada Centre was treated to three hours, fifteen minutes of classic Springsteen when he and the legendary E Street Band stormed into Toronto and pounded out a non-stop, thirty-three song set at the only Canadian venue for The River Tour 2016.
Springsteen rocked the house; the mood in the building was electric from beginning to end.
***
Despite being a longtime fan of The Boss, this was admittedly my first taste of a live performance – courtesy of a Christmas gift from a daughter and son-in-law.
The hype I'd heard many times before was reinforced in an impromptu men's room exchange at our pre-show dining venue. "This will be the eighteenth time I've seen him," a veteran follower confided, from my left, "you're in for a real treat; you'll just love it."
And love it, we did. From the vantage of excellent seating, directly right of the stage, it was clear from the first blast of the opener, Meet Me in the City, there would be very little sitting that night.
***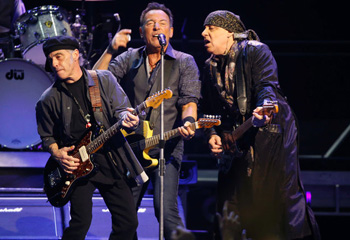 Springsteen devoted the first two hours of the show to The River – the twenty-track, double-album he originally released in 1980.
He paused a few times to offer insight into his motivation for such songs as, Independence Day, I Wanna Marry You, and Stolen Car. He spoke of the album being written at a time of introspection and self-discovery.
…I was trying to figure out where I fit in. "…I wanted to make a record that felt like life.
The next hour and a quarter changed gears to kick off with The Promised Land and finish with a five-song encore. In all, it covered a dozen hits from a long and illustrious career. Among them: Brilliant Disguise, Thunder Road, Badlands, Born to Run, and Dancing in the Dark. The night closed out with an energetic and extended cover of The Isley Brothers, Shout.
The unmistakable Springsteen vocals and E Street's trademark mix of guitar, drums, keyboard, sax, and harmonica, took us on a nostalgic three-hour ride of reminiscence on other times – when The Boss was invariably part of the acoustic backdrop.
***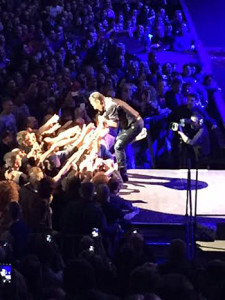 The Springsteen fan base is diverse, but whether young or old(er), fan participation and the enthusiasm in the building seemed almost cult-like. People of all ages knew all the lyrics and timed each emphatic fist pump and patented finger thrust, with Springsteenian precision.
The demographic range was perhaps never more evident thanwhen Springsteen invited an 88-year-old fan from the front row of the center floor mob, for his traditional dance-out of hit song, Dancing in the Dark.
The energy and stamina Springsteen brings to the stage at age sixty-six is beyond impressive. Apart from slowing the pace slightly with a few ballads, he never took a break or – as far as I could tell – a drink of water in the entire 195 minute performance. He even crowd-surfed 50 feet from a catwalk to the stage while belting out the finishing touches on Hungry Heart.
***
Perhaps the most impressive part of the show, for me, was how completely committed and engaged Springsteen is with his audience. You wonder – after so many years of touring the world and playing the same songs – how an artist can possibly keep it fresh and deliver that level of enthusiasm and interaction that makes individuals in an audience feel like he was playing directly to them.
Though it's taken a long time to get there, I'm now a proud member of that giddy collection of Springsteen fans who will tell you, at every opportunity, that you don't know what you're missing until you've seen Bruce Springsteen perform live. And who knows, there just may be another chance or two.
It sure doesn't look like he's ready to give it up any time soon.
*****
Photos 1 & 2: Jack Boland / Toronto Sun / Post Media Network