The Air Canada flight was a smooth one. A 7:00 p.m. departure from Toronto and the 6:45 a.m. arrival in Edinburgh, six hours later, required a lot of sleep in a short period of time if a pair of eager passengers were to make the best of their first day in Scotland. In spite of the prearranged bulkhead upgrade for added leg room, and a strategic selection of somnolent reading material, it wasn't until near midnight that I finally nodded off.
At 12:05 a.m. I was jolted into consciousness by a rattling cart and a flight attendant's far too cheerful "good morning" before reciting the breakfast options. With a metabolism still contemplating the gentle sedation of a generous pour of Cabernet, I ordered the eggs, with a coffee, and quickly abandoned any notion of in-flight slumber.
*************************
Scotland is a country of extraordinary character and beauty. To the visitor, everything seems grand. A land reminiscent of fables and fairy tales. Most things you see in this country are monumental, majestic, rather than generic or mundane. It's a place steeped in history and rich with stories. Scarce in the landscape is evidence of things new, faddish or temporary.
Ancient castles and monuments – the very construction of which defies comprehension – stand as symbols of the epic battles, conquests and defeats we read about in history books.
Northern landscapes provide a breathtaking panorama of contour and colour, soothing the eyes and inviting photographs with every deferential turn of the road meandering through it.
The sacred grounds of St. Andrews, the Home of Golf, and the immaculate real estate at Gleneagles are bursting with the history of Open Championships and Ryder Cups and rife with the lore of golf's icons and their legendary achievements.
Scotland is a land of momentous stories.
 *************************
St. Andrews is an experience of great privilege for one who has spent a lifetime following the game and making an honest effort to play it. The town itself is picturesque and historic. A walk through the centuries old university grounds and the cobblestoned town core is tough to match in terms of beauty and character.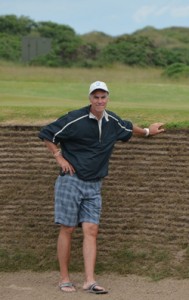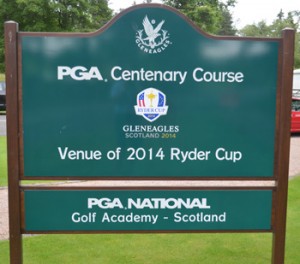 With the temporary closure of The Old Course to public play the day we visited, we were able to walk the storied course at our leisure. We stood on the tee of the famous 17th Road Hole and imagined trying to pick a letter on the side of the hotel over which one must launch a drive to successfully unite with the fairway on the other side. We walked up the vast fairway of the 18th, and contemplated how many putts it could take to get down from the far side of its enormous green. We stepped into Hell Bunker, one of the deepest, nastiest, links-style bunkers known to man, and computed how many strokes would likely precede an inevitable hand-wedge.
Gleneagles, the 2014 Ryder Cup venue, was also a timely treat for a golfing enthusiast. We followed a walk through the immense and opulent clubhouse and museum of golf memorabilia, with a breakfast view of the immaculately groomed and challenging course layout.
*************************
Amid all the history in Scotland, there is also room for a bit of the new. The Kelpies, the impressive 30-metre pair of sculptures completed in Falkirk in late 2013 and opened to the public in April 2014, stand at the gateway of the Forth and Clyde canal systems. The majestic creatures were named for mythological water beasts with 10-fold strength and endurance. They stand in celebration of the horse-powered role in industry and agriculture and pay tribute to the transformation and endurance of Scotland's extensive inland water systems.
*************************
The weather for our trip over was outstanding. In Scotland, if it reaches 22C degrees with sunshine, it's considered a scorcher.  If you string a week or so of these days together, it's considered a minor miracle. Our week and a half was virtually rain free, with temperatures in the high teens to low 20's throughout our stay. Conditions more than accommodating for: four rounds of golf at Dunnikier, a three-day tour of the North, a kayaking outing, a tour and sampling at the Glenlivet Distillery, a swim in the North Sea and a fish supper at Anstruther, and assorted day trips to St. Andrews, Falkirk, Gleneagles, Kirkcaldy's Beveridge Park, and Edinburgh.
The subject of weather also makes me think of the uniqueness and intrigue of Scottish jargon. If it's pishin' doon, it's raining heavy. And if it's raining heavy, you're apt to become drookit (soaking wet). The dreich (miserable) conditions and the consequent soaking of your breeks (trousers) will quite likely bring on a stushie (state of anxiety) that makes you crabbit (grumpy). In extreme cases the stramash (disturbance) may even start you greetin (crying) like a bairn (baby) until the eventual return of braw (nice) weather.
*************************
On reflection, a week and a half was not nearly long enough in Scotland. In our case, there were many highlights, with the time spent among family – both in their homes and backyards and travelling across this beautiful country – among the most treasured. The good news is that plans are already underway for vacations in Canada by several generations of family over the next couple of years. There are also plans in the works by my daughter and son-in-law to pay a visit to Scotland as part of a European holiday next year. Arrangements are being made among some of the younger members of the clan to become pen pals, and learn a little about family, and a country, on the other side of the ocean.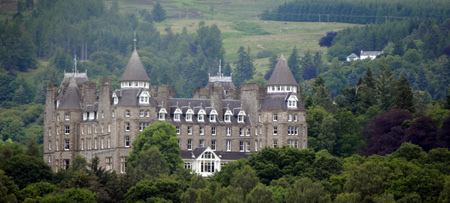 But still, I can hardly wait for our turn to come around once again – in the not too distant future – to reunite with the family we bonded with so quickly and resume the vacation adventure in Scotland.
*************************